i once lived in Italy for a short period of time. where i stayed, there was a beautiful glass bell jar in the kitchen, filled with fresh pastries everyday, delicious and tempting, ready for anyone who passed by. i loved how the host extended her warmth & homeyness, even without her presence.
long after my Italy days, the image of that filled bell jar still meant something in the back of my mind.
as i took a bite of this polenta cake, the amazing citrus aroma reminded me of her pastries. it's time to replicate that good vibe! from now on, there will be a bell jar on my counter, filled With Added Love, flowing through the river of time…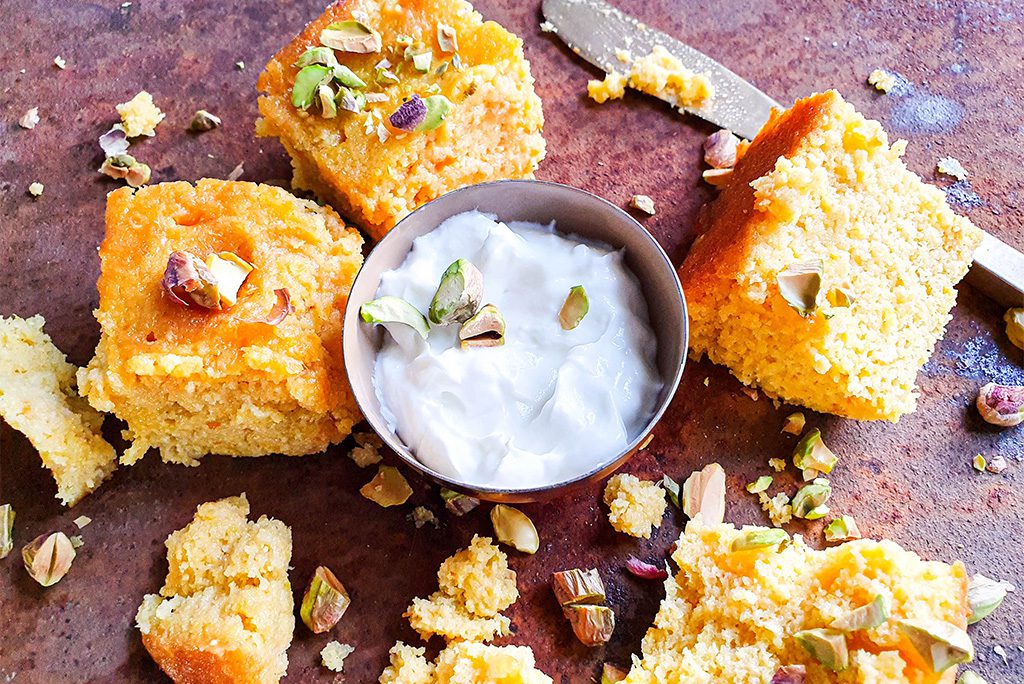 Print
Heavenly orange polenta cake
orange polenta cake, aaah… tastes like "heaven"!
Author:
Prep Time:

25 min

Cook Time:

1h 35 min

Total Time:

2 hours

Yield:

8

persons

1

x
Ingredients
For the polenta cake:
2

oranges

4

eggs

1/2 cup

≈ 125 g maple syrup &/or honey

1 tsp

vanilla extract

1/2 cup

≈ 100 g olive oil

1 cup

≈ 150 g polenta, aka: cornmeal (coarse flour)

1 cup

≈ 100g almond flour

1 tsp

gluten free baking powder
pinch of salt
For the syrup:
juice of

1

orange
juice of

1

lemon

1/4 cup

(

65 g

) honey
Instructions
for the cake:
pre-heat oven, 175 ºC / 350 ºF.
wash oranges thoroughly with peel on.
in a pan, place oranges in pan, pour water to cover oranges, bring water to boil, reduce to low heat, simmer 1 hour.
allow water fully cool down before removing oranges.
in a smaller bowl, while keeping the peels intact, carefully cut oranges in quarters, remove any seeds, remove the hard top & bottom crown.
coarsely grind oranges in a food processor, it should not be too liquidy. at this stage, you are still able to see the texture of skin & flesh, "INSTEAD OF" a fully blended smoothie.

tip 1: the key here is "during the entire process, try to preserve as much juice as possible"
tip 2: as an alternative to a blender, simply do a "hand-split" to divide oranges into small pieces to avoid loosing juice.
tip 3: do not worry about the remaining of the skin, they do add amazing pleasant aroma to the cake.
tip 4: if prefer, buy oranges with thinner skin.

in a large bowl, beat eggs & syrup, add vanilla & olive oil while mixing.
spoon dry ingredients (polenta, flour, baking powder, salt) & oranges into large bowl with egg / syrup mixture, spoon mix lightly.
line a springform tin with greaseproof baking paper, carefully pour mixture in.
at this point, cake mixture in tin should be somewhat liquidy, place tin in oven carefully.
bake until golden brown on top, about 30 ~ 35 minutes, insert toothpick into cake to test for doneness, if comes out clean, it is done.
for the syrup:
while cake is baking, in a small saucepan, heat orange juice, lemon juice & honey until honey dissolves completely, mixture should be slightly warm (not boiling).
when cake is out of oven, begin using toothpick to prick entire cake with many many small holes. this will allow "the syrup" to flow-into the cake & be fully absorbed.
pour syrup allover cake slowly.
allow orange cake to cooldown in mold. cover cake & store on a dry, cool place.
allow "syrup" to soak through overnight.
enjoy the divinely flavored pastry.
Notes
serve cake with "Drained Goat Yogurt & chopped Pistachio Nuts" topping cream will bring your savoring experience to a different level. the Yogurt & Nut topping cream can be prepared a night before.