believe it or not, Signorina Watermelon actually makes a great leading actress when it comes to partnering up in a salad! when Signorina Watermelon goes hand-in-hand with Segnore Feta, the rest of the crew will look and taste just as fabulous.
that's not all, here is a "magic touch": a sprinkle of freshly ground chili flakes, expect the unexpected, that flipping WOW…!
Enjoy!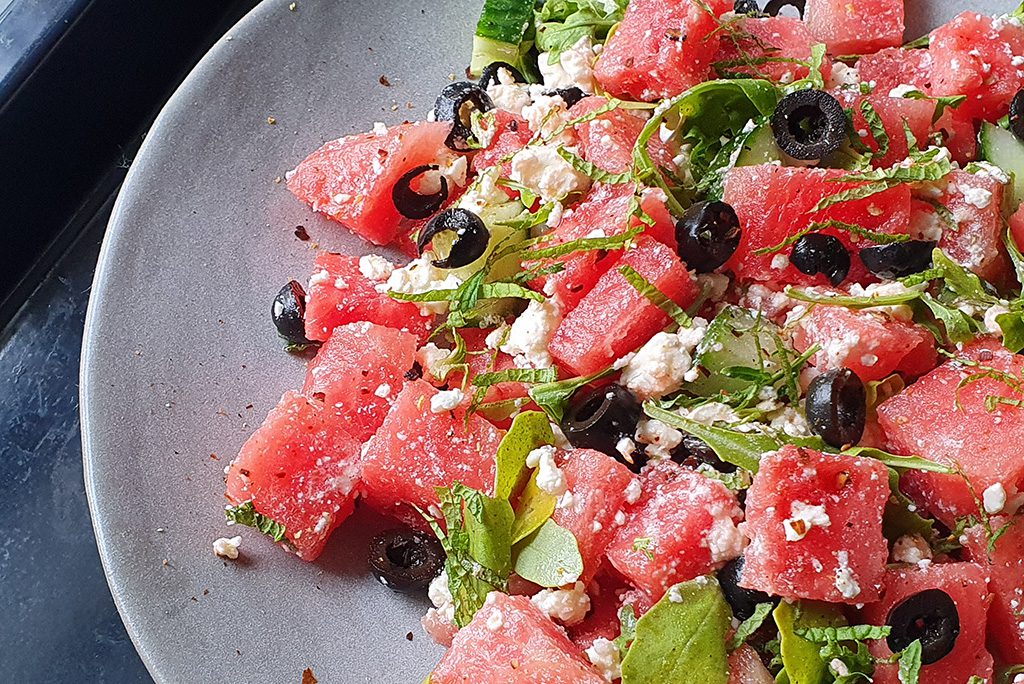 Print
Watermelon salad
a refreshing watermelon salad, with a tiny surprise!
Ingredients
For salad:
watermelon
cucumber
fresh mint
feta
black olives (sliced)
arugula
freshly ground salt & pepper
For dressing:
2 tbsp

olive oil

2 tbsp

lemon juice

1 tsp

honey
Instructions
cut watermelon into thin slices, then cut into cubes.
wash cucumber, cut into quarters, then cut into pieces.
pick mint leaves, cut into long strips.
crumble feta, slice olives.
prepare salad with all ingredients.
grind salt over it, be bold & dashing with freshly grind pepper to taste.
make oil base dressing with lemon juice & honey. pour over salad.
ta..daa…
Notes
for those who enjoys an extra kick, grind dried chili pepper flakes on top of your salad.